Welcome, party-goers! If this is your first time here, my name is Shari and I am a Quilter.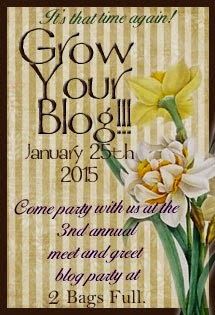 I happened upon the Grow Your Blog party last year and thoroughly enjoyed finding new (to me) blogs and began following several I saw along the way, so when I saw where Vicki at Two Bags Full was doing it again this year, I signed up.
I've been blogging for two years. I wanted a place to memorialize my quilting and share some thoughts about my process along with some bits and pieces of daily life. I've really enjoyed it so far and hope to continue it for as long as I'm able.
I have been quilting now for just over 22 years. Before quilting, I was knee-deep in counted cross stitch for another 22 years, but quilting quickly took over my life after I made my first one, a small wall hanging from the pattern "Old St. Nick" from Debbie Mumm. I don't even know where that quilt is right now!
One day I'll find it.
I started out making traditional and primitive style quilts and still do, but I am branching out into brighter colors. For most of the years I have been quilting I only averaged making 1 quilt per year, but the last 2 years have been much more productive. I completed 8 quilts in 2013 and 5 in 2014. I'd love to finish more this year.
My latest finish was in August 2014--a Christmas quilt that I started 8 years ago:
I'm currently working on a little lone star for a girlfriend's first grandchild:
I'm on a mission to complete 60 UFOs, PIGs and PhDs that are in varying stages of completion, anywhere from haven't started it yet to ready to be quilted, and I'm ready to start several more. I've been known to be a great starter but not so hot on finishing; that's changing--I finished the 3 quilts I started last year so I'm getting better at that.
I don't have a prize for this party because my 100th blog post is coming up and I'm having prizes for it, so stay tuned!
I hope you have a wonderful time hopping through all the blogs in the party. Sit back, have a cup of tea, and enjoy--
Go quilt!